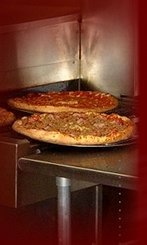 Paparonni's Pizza has been serving Real Pizza For Real Pizza Lovers in Madison County, Georgia since 1994. Centrally located in Danielsville next to Golden Pantry, we're proud to offer "world-class pizza quality with friendly, small-town service", whether dining in or taking out! We make our own dough using 100% extra virgin olive oil, chop our own cheese (100% whole milk mozzarella), and mix our sauce using Stanislaus brand fresh-packed crushed tomatoes and our own secret blend of spices!
 Videos produced by Daylan A. Shubert with original music by Pat Strawser
Hours of Operation 
Tues-Thu 2:00 pm - 9:00 pm
Fri-Sat  1:00 pm - 9:30 pm
(Available earlier for large orders with advance notice)
Thanksgiving Week

Modified Hours of Operation

            We will be OPEN Mon-Wed 2:00-9:00 pm but will be closed Thursday-Saturday

We apologize for any inconvenience but wish everyone a 

Happy Thanksgiving!